Making his mark late in the Be Bop era, drummer
Artt Frank
offers his own guide with
Essentials For The Be Bop Drummer
; moving beyond the simple timekeeper to accompanist in the musical conversation. Playing in the clubs of New York's storied 52
nd
Street with such greats as Charlie Parker, Dexter Gordon, Sonny Stitt and Bud Powell,
Artt Frank
landed a gig with lyrical trumpet icon Chet Baker, whom he played and recorded with for quite a few years.
Stan Levey, who played with Dizzy Gillespie, Stan Kenton and others, gives the introduction to the book. He describes Artt's enthusiasm, pointing out Artt's appetite for knowledge and thirst for Bebop. Stan shares how Artt, a teenager at the time, began hanging out 52nd Street in 1948, looking to Levey as a role model.
As a 'play by ear' type musician with no formal training, Artt developed his skills over the years as a premier exponent of Be Bop drumming. He and Chet Baker became the best of friends — musically and personally. Artt was not only Chet's favorite drummer, but also one of Chet's biggest supporters and promoters — a kind of "guardian angel".
REVIEW
Essentials For The BeBop Drummer begins with a brief history in which Artt describes his humble beginnings. He grew up in a small town in Maine, one of seven children in a poor family. Artt used to listen to Gene Krupa on the family's Philco radio; and he got his first taste of Bebop when he heard a radio broadcast of a Charlie Parker performance at the Royal.
In Chapter One, "Time: The Heartbeat of the Music", Artt shares his thoughts regarding the role of Bebop drummer. Frank says "The first job of any drummer is to lock in the time, and to keep that tempo constant throughout the tune." There is a graphical diagram on a line-drawn cymbal which articulates the standard 4/4 jazz Ride cymbal pattern. Here Artt discusses his views regarding the differences between what he calls the 'Standard Swing Ride Pattern' and the 'Classic Bop Ride Pattern'. What I found interesting is how Artt plays the Bop Ride Pattern ... accenting on beats 2 and 4, starting close to the Bell as he travels down the cymbal with three downstrokes. To be honest, this technique seems a bit strange to me. I'm familiar with the old-school approach ... traversing across the cymbal, accenting the backbeats (2 and 4), skipping the three-note pattern (like skipping a rock across a lake), but never starting near the Bell of the cymbal and traveling down towards the edge. Artt calls this his "push-pull" feel or groove, and believes it to be crucial to creating the "proper feel". Artt goes on to share his personal approach to brush technique, using easy to understand descriptions and illustrations.
Chapter Two, Artt discusses comping with the left hand on the Snare drum, providing a selection of patterns he uses to drive the music. There's also 37 notated comping (Kick/Snare) exercises, all of which are demonstrated on the companion CD, performed by co-author Pete Swan.
In Chapter Three, Artt gives some suggestions on how to identify tunes as well as song structures (head, solos, trading fours, eights, etc.) to aid and more effectively accompany (and solo) within the music.
Chapter Four is entitled "Shifting Gears" in which Artt does a nice job discussing his application of contrasting ideas such as the building of intensity, complexity and simplifying, volume, along with using the sounds and colors of the drumset to add depth and dimension to the music.
In Chapter Five, Artt discusses Trading Fours and Eights, giving notational examples as well as transcribed solo from his own tune "18th and Vine" which also appears on the companion CD.
Included in the book are a number of photos, several of Artt and Chet Baker together, as well as a photo-copy of a backstage program from the 1975 Schaeffer Jazz Festival held in New York, where Artt played with Chet. You'll also find Artt's discography along with a poem about Artt (written by guitarist Tony Purrone).
Essentials for the Be Bop Drumming is significant in that Artt is sharing his experience as an ear-player, passing along his knowledge and insight to Be Bop drumming tradition. Serious students of jazz drumming, beginner to advanced, will find this book/cd to be an invaluable, historical resource.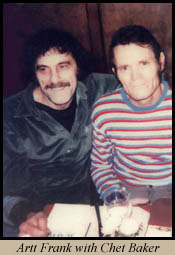 "I love his [Artt Frank] playing. He has great time, and the biggest ears of anyone I know." — Chet Baker